Smart people learn from the SEO strategy mistakes of other people. And this learning process doesn't have to be complicated, believe it or not.
To make it easier to identify the most common SEO mistakes made by many websites, we've used data from SE Ranking from over 40,000 scanned websites using their Website Audit Tool. We divided the problems we found into 10 categories and described them according to their frequency and severity.
We've also included an extra section at the end where we talk about some of the less critical, but still common, technical SEO issues that you may also want to consider. So we strongly encourage you to read to the end.
Now, let's dive into the biggest technical SEO mistakes we found when analyzing them.
#1. Images – What you're doing wrong when adding images to your website?
Images are the first on our list of common SEO strategy mistakes. They make a website more aesthetically pleasing and help users to better perceive the content. It is unlikely that a simple text will catch the reader's attention without a single image to visualize the information.
As unoptimized images can lead to website speed issues, affecting your SEO and UX, we strongly recommend using them (but carefully).
Missing alt tags and image files that are too large are the two main image issues we have seen in our research. Make sure that you check your site to see if you have these problems as well.
• Missing alt text
The most common image-related SEO strategy problem was missing image alt tags, affecting 83.87% of websites.
The alt (alternative) text is an HTML element designed to explain the meaning of images to search robots and make them more accessible to users. It's one of the most important elements of image optimization, helping search engines to better understand and rank your image.
Image alt attributes are also useful for users if the image doesn't load (for whatever reason). They're also useful for people with visual impairments who have difficulty perceiving visual information.
To get the most out of your images, add helpful, informative and contextual alt text to each one. You can also use keywords, but avoid keyword stuffing as this is a negative experience for your users and signals spam to search bots.
• Image Size is too BIG
Another problem with images is that they're often too resource-consuming. Our research showed that 35.44% of pages have this problem.
The size of the image file can have an impact on how quickly the page containing it loads. The logic is simple and obvious: the larger the size, the longer it takes to load, the longer the user waits, the worse the user experience, and the lower the page's position in search results.
One way to reduce the size of an image file is to compress it while maintaining image quality. There's no perfect level of compression, as it depends on the image format, dimensions and pixels. However, you should try to keep it under 100 KB or less whenever possible.
#2. Meta Tag - What you should avoid doing as a SEO Strategy?
Meta tags are a very important part of a SEO strategy because they tell the search engines and the users important information about your web page. They also help search engines to have a better understanding of how to display your pages in the SERPs. Meta tags are one of the core elements of effective search engine optimisation.
That's why you wouldn't want to be struggling to get them to work. However, some websites do have them, so the following is a list of the most common SEO mistakes made in relation to meta tags.
• Missing description
This problem occurs in 71.11% of websites. But why is it so critical, given that Google neither confirms nor denies that meta descriptions affect rankings?
The answer is that Google can still use them for search result snippets. If you don't provide a description for a page, the search engine will use the content available on that page to generate a description for itself. Do you really want to rely on the search engine? Probably not.
• Duplicate page titles and descriptions 
More than half of the websites analyzed have duplicate title tags (52.59%) and duplicate descriptions (50.17%).
Having multiple pages on your website with duplicate title tags and duplicate descriptions will confuse search engines because they won't be able to quickly determine which page is relevant to a particular search query. Such pages are less likely to rank well, so try to make titles and descriptions as unique as possible.
If you're struggling to rewrite them, you can use the AI Rewrite feature available in the new SE Ranking content marketing module. It'll help you create unique copies in seconds and generally allow you to create SEO-friendly copy faster.
• Title and description length issues
22.82% of websites have title tags that are too short and 21.75% have descriptions that are too long.
The problem is two-sided:
• A title that's too short can't fully describe your page.
• A description that is too long may be truncated in the snippet by the search engine.
The general recommendation is to keep page titles between 40-60 characters and page descriptions under 155 characters.
• Missing title tag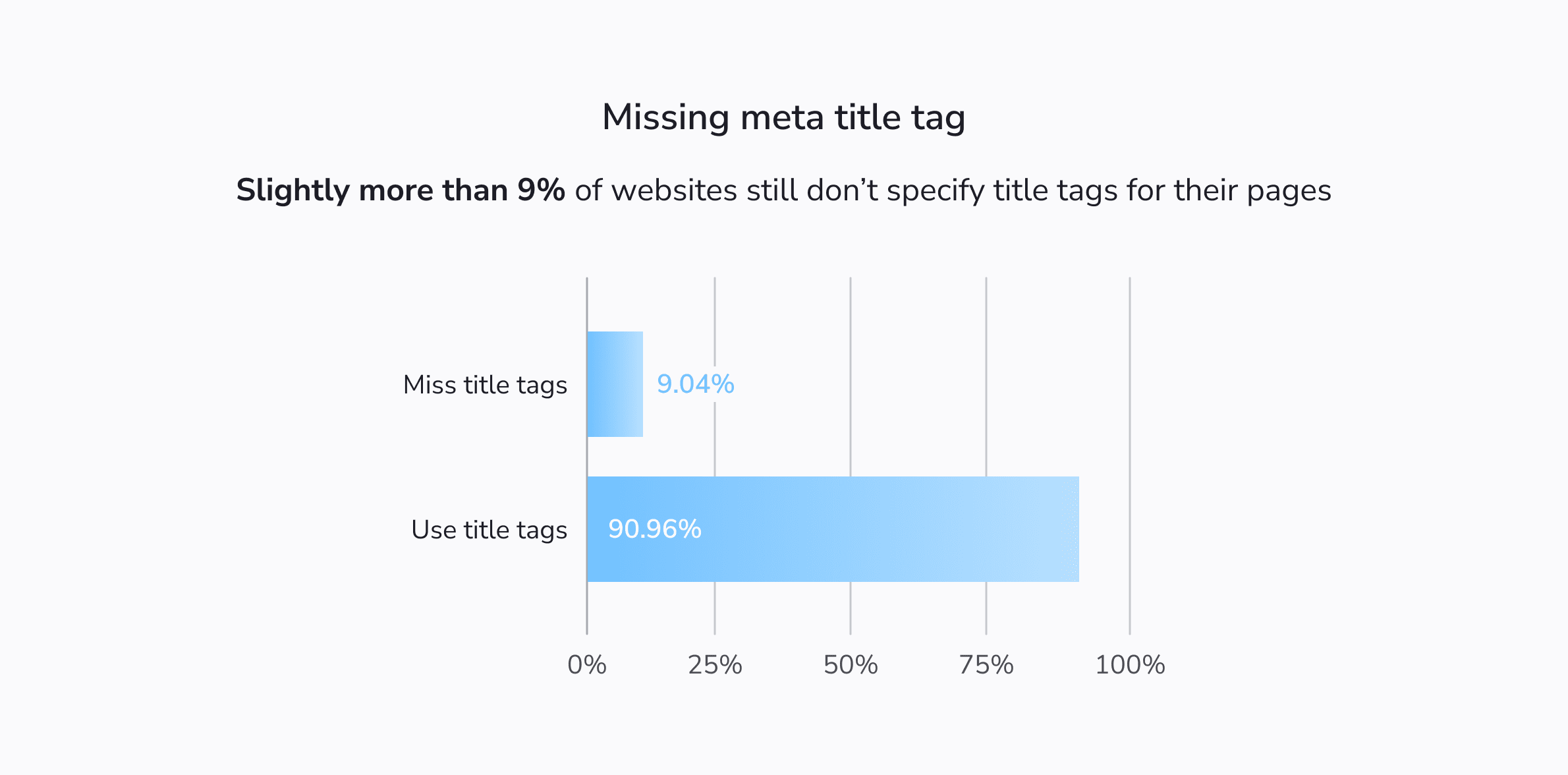 A rare but common mistake (9.04%) is not including the title tag at all. This is a missed opportunity to tell search engines and users what your page is about. Instead, search engines create the title from the available page content. And this may not always match your goals or your keywords.