Google's Core Web Vitals will become a ranking factor for the first time in 2021. In February 2022, the change was fully rolled out to all mobile and desktop searches.
Since then, Google has also been working to deliver new technologies to optimize web performance, as well as experimenting with a potential new performance metric.
This article will help you understand how Core Web Vitals correlate with key business metrics by exploring examples of companies which have already see positive impact for their users and business.
What are Core Web Vitals and how do they affect your rankings?
The Core Web Vitals are a set of three user experience metrics:
• Largest Contentful Paint: how quickly did the largest image or piece of text appear?
• First Input Delay: how quickly does the site respond to user input?
• Cumulative Layout Shift: is the page stable after rendering, or does content shift?
Google collects data for these metrics from real users as part of the Chrome User Experience Report. Pages that perform well on these metrics will rank higher in search results.
Use priority tips to speed up your site
Last April, Chrome released Priority Hints, a new HTML feature that allows website owners to highlight the most important resources on a page. This is particularly useful for images, which are the most content-intensive resource on a page.
By default, all images on a page are loaded with low priority. This is because, before the page is first rendered, the browser can't tell whether an image element will end up as a hero image or as a small icon in the page footer.
So it's common for LCP images to be loaded with low priority at first, and then switched to high priority later. This means that the browser will wait longer before starting to download the image.
This request waterfall shows an example of this. Note the long grey line where the browser knows about the image, but decides it doesn't need to start loading it yet.
Smart people learn from the SEO mistakes of other people. And this learning process doesn't have to be complicated, believe it or not.
To make it easier to identify the most common SEO mistakes made by many websites, we've used data from SE Ranking from over 40,000 scanned websites using their Website Audit Tool. We divided the problems we found into 10 categories and described them according to their frequency and severity.
We've also included an extra section at the end where we talk about some of the less critical, but still common, technical SEO issues that you may also want to consider. So we strongly encourage you to read to the end.
Now, let's dive into the biggest technical SEO mistakes we found when analyzing them.
#1. Images – What you're doing wrong when adding images to your website?
Images are the first on our list of common SEO mistakes. They make a website more aesthetically pleasing and help users to better perceive the content. It is unlikely that a simple text will catch the reader's attention without a single image to visualize the information.
As unoptimised images can lead to website speed issues, affecting your SEO and UX, we strongly recommend using them (but carefully).
Missing alt tags and image files that are too large are the two main image issues we have seen in our research. Make sure that you check your site to see if you have these problems as well.
• Missing alt text
The most common image-related SEO problem was missing image alt tags, affecting 83.87% of websites.
The alt (alternative) text is an HTML element designed to explain the meaning of images to search robots and make them more accessible to users. It's one of the most important elements of image optimisation, helping search engines to better understand and rank your image.
Image alt attributes are also useful for users if the image doesn't load (for whatever reason). They're also useful for people with visual impairments who have difficulty perceiving visual information.
To get the most out of your images, add helpful, informative and contextual alt text to each one. You can also use keywords, but avoid keyword stuffing as this is a negative experience for your users and signals spam to search bots.
• Image Size is too BIG
Another problem with images is that they're often too resource-consuming. Our research showed that 35.44% of pages have this problem.
The size of the image file can have an impact on how quickly the page containing it loads. The logic is simple and obvious: the larger the size, the longer it takes to load, the longer the user waits, the worse the user experience, and the lower the page's position in search results.
One way to reduce the size of an image file is to compress it while maintaining image quality. There's no perfect level of compression, as it depends on the image format, dimensions and pixels. However, you should try to keep it under 100 KB or less whenever possible.
#2. Meta Tag - What you should avoid doing?
Meta tags are a very important part of SEO because they tell the search engines and the users important information about your web page. They also help search engines to have a better understanding of how to display your pages in the SERPs. Meta tags are one of the core elements of effective search engine optimisation.
That's why you wouldn't want to be struggling to get them to work. However, some websites do have them, so the following is a list of the most common SEO mistakes made in relation to meta tags.
• Missing description
This problem occurs in 71.11% of websites. But why is it so critical, given that Google neither confirms nor denies that meta descriptions affect rankings?
The answer is that Google can still use them for search result snippets. If you don't provide a description for a page, the search engine will use the content available on that page to generate a description for itself. Do you really want to rely on the search engine? Probably not.
• Duplicate page titles and descriptions 
More than half of the websites analysed have duplicate title tags (52.59%) and duplicate descriptions (50.17%).
Having multiple pages on your website with duplicate title tags and duplicate descriptions will confuse search engines because they won't be able to quickly determine which page is relevant to a particular search query. Such pages are less likely to rank well, so try to make titles and descriptions as unique as possible.
If you're struggling to rewrite them, you can use the AI Rewrite feature available in the new SE Ranking content marketing module. It'll help you create unique copies in seconds and generally allow you to create SEO-friendly copy faster.
• Title and description length issues
22.82% of websites have title tags that are too short and 21.75% have descriptions that are too long.
The problem is two-sided:
• A title that's too short can't fully describe your page.
• A description that is too long may be truncated in the snippet by the search engine.
The general recommendation is to keep page titles between 40-60 characters and page descriptions under 155 characters.
• Missing title tag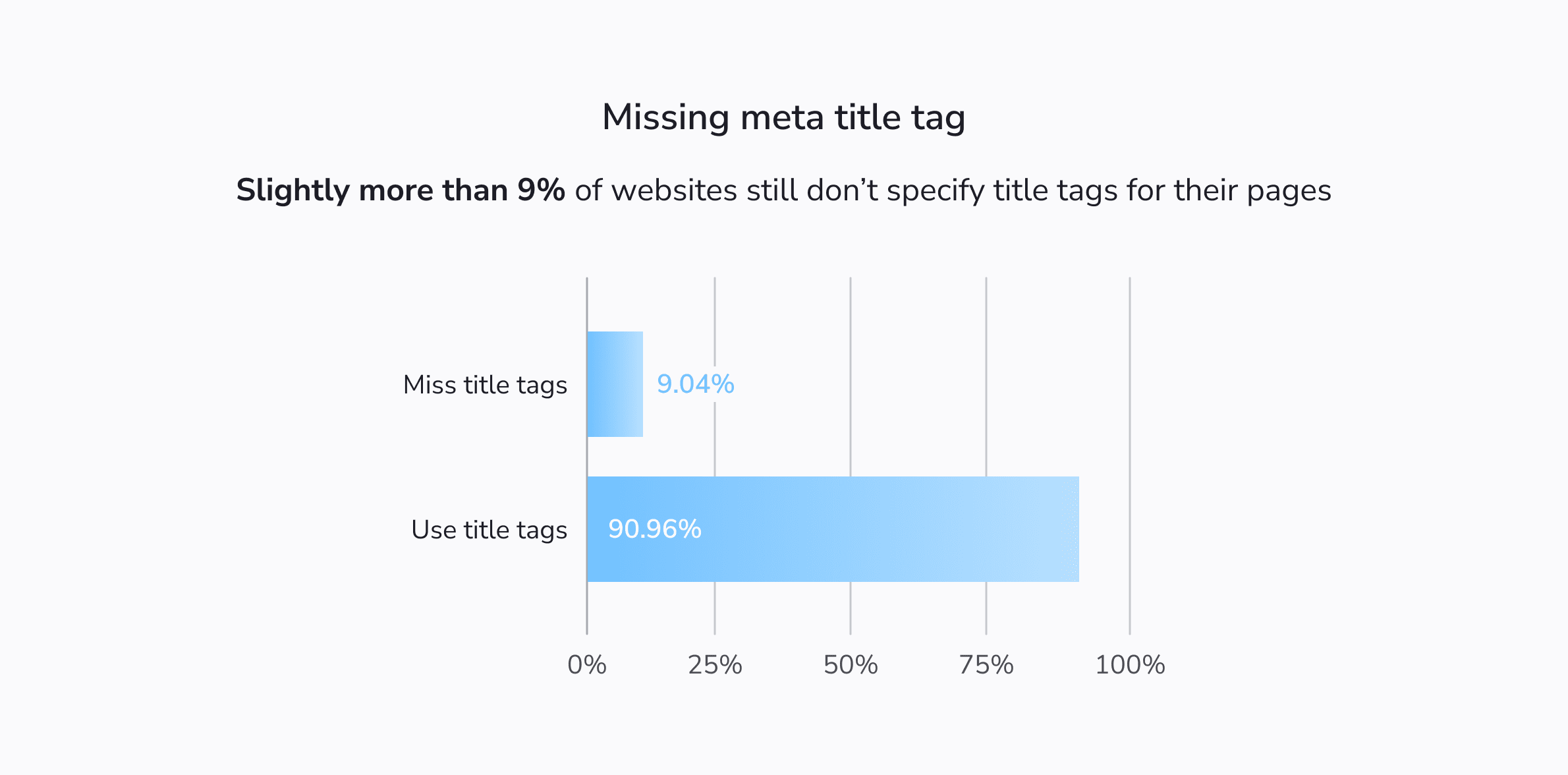 A rare but common mistake (9.04%) is not including the title tag at all. This is a missed opportunity to tell search engines and users what your page is about. Instead, search engines create the title from the available page content. And this may not always match your goals or your keywords.
Having a business nowadays and not being digitally present is pretty much just like "winking at a girl in the dark". Undoubtedly, online marketing is an appealing way of increasing your business potential, whether you're serving your customers virtually online or physically offline. If you own a start-up or a small business without an astronomical budget, that doesn't mean you can't have top software developers working for you, at least not in the digital world – where shaping your brand and enlarging your customer base is easier than anywhere else. Let's see 6 reasons why social media and digital marketing are the necessary business improvements for growing sales and leads in 2017.
1. Emphasize your uniqueness
Texas Tech University discovered in 2013 that one of the safest ways to establish brand loyalty is through Social Media. A well-designed website with proper functionalities can provide your customers with personalized user experiences, which rapidly leads to brand recognition and recall. If you find a creative way of communicating your message (and not looking like an aggressive, desperate seller) then your customers' loyalty will unmistakably increase. After all, no one likes being talk to in a mass-communication manner, because that makes them feel like they're just one of the many consumers who make no difference or have no impact on the company.
2. Be reliant, be everywhere
Being actively present on many social media channels doesn't overwhelm your audience at all. Conversely, it actually highlights how reliant and omnipresent you are. No matter where your customers are located or what social networks they use, you have to be easily accessible anytime to as many people as possible, in order to provide the right solutions and the right customer-service. If spreading on 5 or more different social media platforms sounds tiring to you, then feel free to contact any marketing specialists for an amazing experience on digital presence. Going beyond the basic advertising practices, we are ready to provide interesting and relevant content which customers would enjoy sharing on their pages, therefore raising awareness about the brand.
3. Customer retention opportunity
The more comforting your website is, the more time they will spend navigating it and the more incentive to purchase they will have. Besides interactive tools and well-crafted pictures, you can prove the premium-quality of your business by using a customer education strategy. Should you have a high-quality piece of advice on a particular procedure in your area of activity, Royal Media Ltd. is here to paraphrase your industry knowledge into valuable content that clients would learn from. Through educational texts and videos, you have the right chance to show your know-how in the field and persuade visitors to use your professional product or service.
4. Visibility and first ranking
You probably want to make sure that your website is constantly earning traffic and not just lying somewhere in the darkness. It's worthless to mention how vital a Search Engine Optimization strategy is and certainly even more worthless to mention how well and how fast can a creative digital agency get you on Google first page. You can learn more about our SEO tactics by contacting us. Visibility is one of the keys to obtaining new customers. Therefore, details such as your type of business, past experience, product, location, schedule, availability, contact and so on are absolutely necessary in order to get new clientele. For better results, leave it to the best software development companies of 2020.
5. Specific public
Another huge benefit that Social Media provides is that you can communicate to those specific audiences to whom you want, saving a lot of money and resources while not boring anyone who's not interested in your services. This type of communication is created to be win-win, not lose-lose. For instance, Facebook allows you to reach your audience based on aspects of industry, education level and, very important, location, which makes Social Media an environment independent of geographical boundaries. Furthermore, you can very easily track your customers' pages and gather insights about their daily interests, passions and even concerns – and that allows you to adapt your business accordingly. This can't be called stalking or spamming, because it truly is just a high degree of care and attention that will eventually please both sides equally.
6. You are not seen as an advertiser
Social Media advertisements are very different from tradition media. On Twitter or Facebook there is no TV moderator to let the audience know that a commercial break is coming, so that they could surf on a different channel. Instead, ads are being included in the news feed flow, giving them the character of a story among today's events, which makes people be more curious and open to your message. Another advantage is offered by the Contact or Call-to-action buttons that you can implement within your announcement. A controversial practice is that of newsjacking, where you can use a piece of breaking news in your advantage, by connecting your product to the just-occurred situation in a funny or problem-solving way (i.e. posting a short article/joke that emphasizes the solution your product brings in accordance with a new political decision).
Whether you want to make a great first impression with an outstanding design or you're trying to engage more customers in a warm and delightful community or you simply plan on increasing sales with a particular percent this year, Social Media and Digital Marketing campaigns are two business steps that you must not skip.
P.S.
All the aforementioned benefits are just a tiny part of the potential of enhancing a business in terms of custom software and digital communication.